2012 Chevy Camaro ZL1
4 Months ago, I reviewed the ZL1 ELITE Edition, or ZL1 Dragster or ZL1 Shopping Cart as some of you might have named it, saying that it was a good car, a bit heavy, and covered with uniqueness from head to toe. I also said that even though it looked good in my eyes, we needed to see the stock ZL1 because that also looks fantastic. Low and behold, 4 months later during the 2-Year Anniversary, it arrives as a free car! And you think the greatness ends there, don't you? It keeps going.
The Good:
Other than it looking so beautiful and muscular, it still comes with the brutal 6.2-liter V8 Camaro engine sound making it sound correct, rather than the Terlingua Mustang. Speaking of that car, don't expect that to catch up to this, at all, unless the driver lives his ZL1 stock for a very long time. Stock this car does 159 MPH. Street-tuned, it'll do about 177-178 MPH. Mine, which is nearly completely ultra tuned, can already do 201 MPH. This thing is fast. Plus, unlike the dragster which felt heavy in the corners back then and now, this feels unbelievably light and stable. You simply steer it in one end, and it takes you there. Steer it in the other end, and it takes you there as well. The steering is so responsive, you can dodge traffic at a moment's notice. And it's so stable, following racing lines shouldn't be all that hard either. This will give the 69 BOSS 302 a run for its dear money. But, fully race tune this, and you'll be out-cornering and out-running the 12500 SB ELITE car.
The Bad:
Unfortunately, that ELITE car will have a nitrous edge on you, as this car does not have the cosmic nitrous that the ELITE one has. Also, grip wise, it's good, but the limits are sort of marginal rather than brilliant. You can race with this and win in this, but it just feels a bit stiff. This also needs a bit more limits as well. Also, I'm sorry, but it's underpowered. The 580 horsepower ZL1 in the real world can do 186 MPH with no parts on. The one here is tremendously slower than the real one.
Should You Buy It?:
Definitely
, if you want a free car,
Yes
, if you want to thrash the Terlingua Mustang in this,
Maybe
, if you want to take on the 69 BOSS 302,
no
if you want to take out any Tier 2 BMW. This is a serious Tier 3 threat as well thanks to its acceleration, grip and stability. This is truly a brilliant gift and a very good car, but it's lack of cosmic nitrous and better grip and it's underpowered rating keep it from being perfect. But what it lacks in somethings, it gains in many things. Responsive steering, acceleration, and price are a couple things. Major respect from Camaro and muscle fans are the other things. So, the battle between the Stangs and the Camaros are on, but the Camaros need some Tier 3 help to take down the BOSS, the Snake, and the mighty RTR-X. Interesting to see what fits the bill there. But, ah well. This ZL1 is still an awesome muscle car. Happy Birthday NFS World, Happy Birthday.
Rating: 17/20
#TheTeenageTransporter
Presenting the 1LE Camaro, Chevy's attempt to make a Camaro between the SS and the mighty ZL1. Unlike the BOSS 302, this isn't any more powerful than the standard SS. It still comes with the 6.2-liter 426 horsepower LS3 V8 engine. But rather lacking in power, this Camaro gains in improved handling and stability. With a matte black hood, front splitter, and rear spoiler, this is no ordinary Camaro. Add a shorter shift throw, black 10-spoke, a dual exhaust system, and the suspension hardware from the ZL1, and you might have a Camaro that can outcorner a Mustang BOSS 302. Yes, Mustangs are faster, but in the corners, they're dead. The 1LE hits the Chevy dealers real soon.
A lot of Americans think the Japanese don't love Muscle cars. Kaz fell in love with the ZR1 and most clean tuned muscle projects at SEMA, and he's Japanese. So, yes they do love to widen their preferences a bit. In fact, Kaz and the Gran Turismo designed this Racing Modified ZR1 that you can drive in GT5. It's pretty much a C6.R with a Supercharger and Gran Turismo decals and graphics. So far, this thing dominates when tuned to the max!
Cadillac has arrived at last! Straight out of the new NFS game, which will be revealed in two weeks, this is the 556 horsepower Cadillac CTS-V, our new top-up car and the fastest Tier 2 Luxury Car in the game. This car will perform better than any luxury thing I've ever driven. Even the M6 Coupe and XKR bow down to this on the track. So, how does it handle in the world of Need For Speed? Let's find out!
2009 Cadillac CTS-V Sedan
Cadillac has arrived: a manufacturer known for their big, heavy, comfortable, V8, front-wheel drive land yachts of the 70s and 80s. Then, it got worse for them when they introduced the Escalade into the mix. But, then they introduced the CTS and their renowned V-Series performance vehicles. No longer was Cadillac known for their enormous land yachts. Now, they're up BMWs territory, even with this one, the fastest Tier 2 luxury sedan/coupe in the game.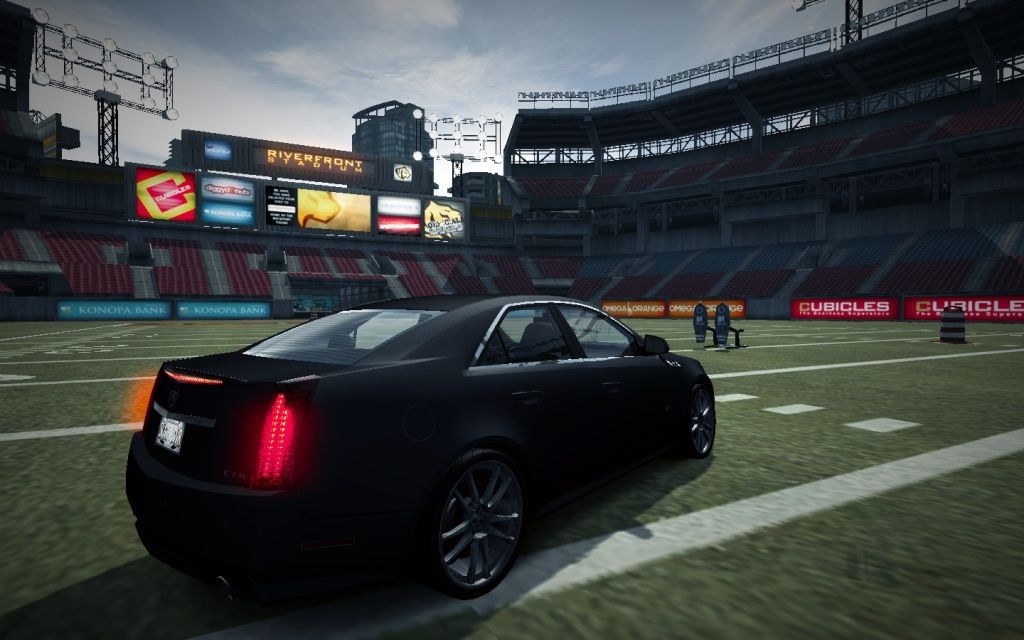 The Good:
First off, this isn't the old one with the 400 horsepower engine. This is the new one with the 556 horsepower 6.2-liter Supercharged LSA V8 de-tuned from the Vette ZR1. Other than it looking fantastic, it's also quite puzzling: What NFS game featured this car? Anyway, as I've said this is the fastest Tier 2 Luxury Sedan/Coupe in the game with a top speed of 190 MPH, just about the same as the Jag XKR. But, in the corners is where everything makes sense. This is a very sturdy, grippy, balanced track racer and when driven right, it will run circles round the XKR. You can also consider this as a muscle car if you will, and to me, I think this car feels better to drive than the Viper ACR. It's easy. A dog can drive it. It won't fishtail or lock up its wheels or anything. It just gets on with it and lets you do your business with the stick or the wheel. These are the types of cars I love driving, and this, I think is one of the best of the lot. It also accelerates well for a 5-gear car and is quite responsive for a slightly heavy thing. But, the thing I love the most about this car is the way it grips. It just stays in the lines and you can be almost precise as to where you're going.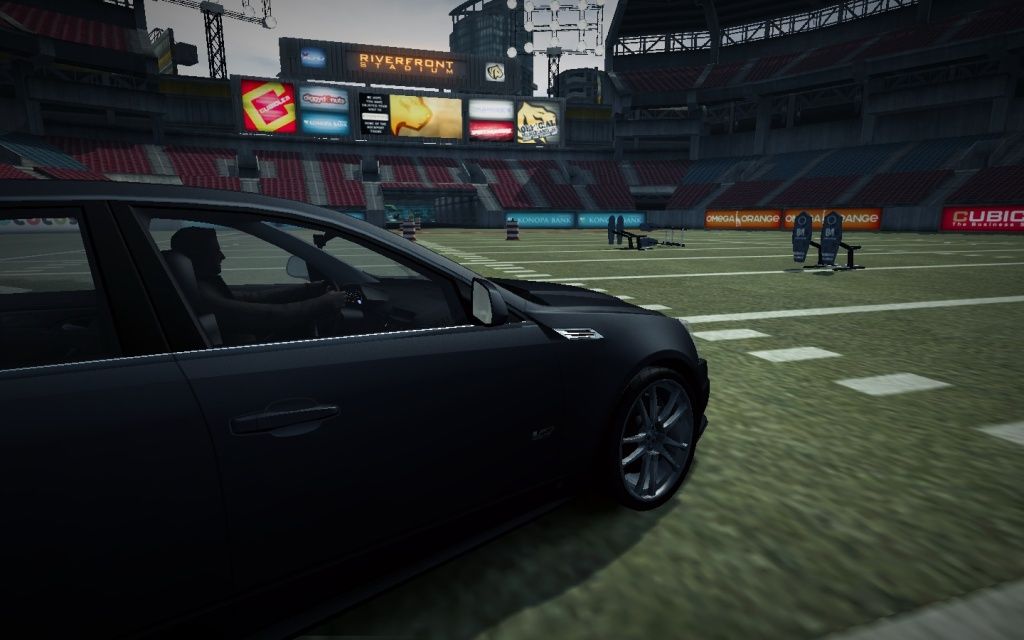 The Bad:
Unlike the Camaro ZL1, which shares the same platform as this, and has cosmic nitrous, this car doesn't. Also, I've heard the growl of the CTS-V in real life, and as I recall, it doesn't sound so high-pitched as the CTS-V in this game. It sounds like a raspy M3 to be honest. Now, the sound team did good work incorporating a V8 into this instead of some boring old muscle car sound, but this car revs to 6500 RPMs, not 9000. Whenever I'm driving this, I find it weird that it sounds like this. Then, for some reason, I start getting the idea that I'm driving an M3 Sedan because of its high-pitched revs. It is rather annoying really. Also, I understand that EA used the Automatic version of the CTS-V. The manual can do 191 MPH putting it up in Tier 3 range. This is a Tier 2, and according to the car books, the automatic transmission in the CTS-V limits the car to 175 MPH. But that's not the bad part. The bad part is that it has 5-gears, when it really should have 6.


Should You Buy It?
Yes, if you want a balanced, good looking, Tier 2 Panamera killer. No, if you want your M3 E30 to rule over the Tier 2 population. It will get close to the kings, but because of its nitrous, you might not get that far. Still, it will tear an M6 limb from limb even with its cosmic nitrous. The Panamera, S5, RS4, and XKR are just no match for it. So, what's this mean? It means the devs are doing some justice with the muscle cars at last. I'll admit, after I while of driving the Cop Snake, trying to understand it's twisted physics, I then just concluded that it actually is quite bad. But, with the CTS-V, muscle cars are now getting the respect they deserve. In real life, this is supposed to leave it's European rivals in the dust. Here we are now in the World of NFS and it does the same thing. It's not perfect, but God it's good!

Rating: 18/20